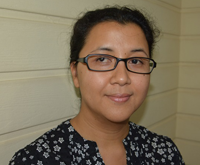 Vimala Dejvongsa is the Director of Connex Consulting, a newly established business focused on supporting positive connections and processes between private enterprises, communities and external stakeholders. Prior to forming Connex Consulting, Vimala was a Senior Policy Officer with the Queensland Department of Communities. Before that she was a Community Relations Deputy Manager at MMG's Sepon Copper Gold mine in southern Lao PDR. She has also held positions with Care International in program development, and Family Planning Australia and Village Focus International with project management responsibilities.
As a consultant she has worked on a range of projects including resettlement and land acquisition planning, community relations training, gender and agreement making, advocacy, youth development, child protection capacity building and combating human trafficking. In these projects she has fulfilled a number of roles such as a team leader, facilitator, interpreter (Lao-English-Lao), trainer and mediator.
Vimala has coordinated and supported several applied studies covering such topics as trafficking, village livelihood programs, sexual and reproductive health, domestic and family violence, gender and development, youth housing, public health education and socio-economic impacts on mine affected communities. She is a member of the Australian Institute of Project Management and the International Association for Community Development.