Miguel Cervantes Rodriguez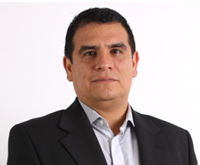 Miguel Cervantes is the Executive Director of CCPM Grupo Consultor, a firm specialised in providing advice to private companies, public organizations and the civil society about the process of developing and implementing strategies for the achievement of business aims through social and environmentally responsible practices.

Miguel has more than 12 years of experience as consultant and manager in the extractive sector; he has developed a practical approach for the Integration of Social Management to the business aims of the industry. By means of instruments and processes validated by the experience, Miguel partners clients in the integration of social topics in the business management process to achieve both social and economic aims within the planned delays. Likewise, he advises processes of corporate alignment, policies and standards' conception. He helps building strategies for the management of social key topics such as: resettlement process, employment, local suppliers and social risk assessment. Before joining CCPM, Miguel was Principal Adviser of Community Relations at Río Tinto, a world leader in the mining sector. He was also Project Manager at Social Capital Group and National Adviser in social policies for the Peruvian Ministry of Health. Miguel is an anthropologist with a Master in Social Management. He was graduated from the Catholic University of Lima, Peru.

Miguel´s project work has involved providing advice and support to companies such as BHP Billiton, Anglo American, Rio Tinto, Xstrata, Freeport McMoRan, Barrick, Newmont, Chinalco (Toromocho project), among others.