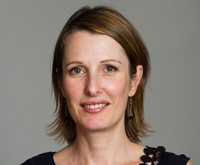 Deanna Kemp is the Deputy Director of the Centre for Social Responsibility in Mining at The University of Queensland. Deanna leads a program of research focusing on mining and issues of social accountability, conflict management and grievance mechanisms, and human rights and gender. She is a member of the Sustainable Minerals Institute's (SMI) Research Committee.

For the past 15 years, Deanna's work has concentrated on social justice-related issues in large-scale industries (primarily mining). She has a particular interest in drivers that lead to improved social performance and industry responses to development challenges. As part of her work and research, Deanna engages with industry, government, civil society groups and mine-affected communities through research (commissioned and independent), social performance evaluation, policy advice and development, training and education, and participation on a range of international advisory panels, such as for the Responsible Jewellery Council and Harvard University's BASESwiki project. She is also a member of the International Council of Mining and Metals (ICMM) new member Expert Review Panel.

Previous to joining CSRM, Deanna held senior positions within the mining industry. She worked in both corporate policy and operational-level roles within BHP Billiton, including as Manager Social Policy in global headquarters. She has also worked as an independent social assessor for Newmont Mining, Oxiana amongst others. Much of her work and research has been international at projects in India, Pakistan, Indonesia, Laos, Mongolia, Canada, Peru, New Zealand and in Australia. She has also collaborated with non-government organisations, including Oxfam Australia, on industry-related capacity building programs.

Deanna holds a PhD from the University of Queensland where she studied at the School of Social Work and Applied Human Sciences. She also holds a Masters of Social Science in development studies from RMIT University and a Bachelor of Business majoring in communication studies from the Queensland University of Technology. She has published a range of journal articles, book chapters and discussion papers which are listed on the CSRM website. She has been a member of the International Association of Impact Assessment since 2000.