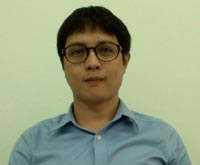 Alay Phonvisay is a Lecturer with the Faculty of Economic and Business Management at the National University of Laos (NUOL) where he teaches Econometrics, Development Studies, and Regional Economic Integration. Alay's primary areas of expertise include monitoring and evaluation, policy and program analysis and applied economic research. He has conducted numerous research projects in the field of health economics, economic development, and international trade. Alay is experienced in developing and implementing complex field projects using both qualitative and quantitative methods.
Alay holds a Masters Degree in Economics and PhD in Economics from the Graduate School of International Studies at Kobe University. Prior to joining NUOL, he was a Data Analysis and Evaluation Specialist with the Poverty Reduction Fund. He has also worked with both national and international organisations in conducting impact assessments for development projects across the Lao PDR.
Currently, Alay supervises master students on projects in the areas of financial development, trade and economic development. He has published articles on trade and poverty reduction. Alay is fluent in Lao, Thai, English and Japanese.